Graphic Novels
(Graphic Novels - GN Fahmy Huda F Are You)
Huda and her family just moved to Dearborn, Michigan, a small town with a big Muslim population. In her old town, Huda knew exactly who she was—she was the hijabi girl. But in Dearborn, everyone is the hijabi girl. Huda is lost in a sea of hijabis, and she can't rely on her hijab to define her anymore. She has to define herself.
(Juvenile Graphic Novels - J-GN Ata Nayra And The Djinn)
In this coming-of-age graphic novel with a fantastical twist, Nayra Mansour, a Muslim American, girl is helped on her journey to selfhood by a djinn.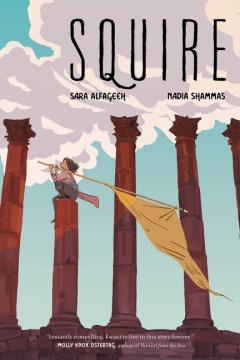 (Graphic Novels - GN Shammas Squire)
Aiza has always dreamt of becoming a knight. It's the highest military honor in the once-great Bayt-Sajji Empire, and as a member of the subjugated Ornu people, knighthood is her only path to full citizenship. Ravaged by famine and mounting tensions, Bayt-Sajji finds itself on the brink of war once again, and Aiza can finally enlist in the competitive Squire training program.